Oakland.Vote 2022
How do I vote in the 2022 election?
Who's running?
2022 Voter Guide: Oakland's Mayoral Race
Oakland has a "strong mayor" system, which means the Mayor creates the budget and picks who enforces policy. This is how the Mayor influences what happens in Oakland, and what doesn't happen in Oakland. The most critical mayoral appointment is the City Administrator, who enforces (or not) city policies, including decisions by City Council. The Mayor also appoints people to boards (ex: Rent Board) and commissions (ex: Police Commission), where many decisions are made about how Oakland runs. Oakland's Mayor serves a four-year term, and their power is checked by a term limit of 2 terms, or eight years.
There are ten candidates on the ballot, and the incumbent is termed out. As usual in Oakland, you can use ranked choice voting to pick your top 3 candidates. If one of your top 3 candidates is elected, your vote will have gone to them!
Candidates Stance Spectrum
Cops vs Community Investment/Divestment Candidate Spectrum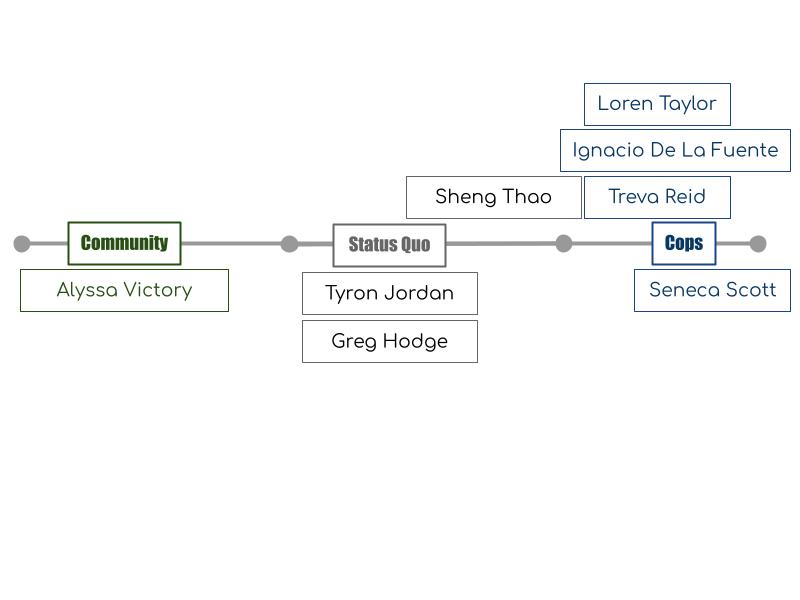 Sweet On Homeless Encampment Sweeps
Four candidates have advocated for sweeping homeless encampments: Loren Taylor, Treva Reid, Igancio De La Fuente, Seneca Scott
City Council and the Mayoral Race
Because three of the ten candidates for Mayor are currently sitting Councilmembers, we've provided a handy graph and table showing you who likes whom.
Here's what you need to know:
Half of the eight Councilmembers are running for a new position. Three of them are running for mayor, one (Kaplan) is running for County Supervisor (no incumbent).

Thao (D4) and Taylor (D6) are not running as incumbents, so if they do not win the mayoral race, will not be holding political office.
Reid (D7) and Kaplan (At-large) will continue to hold their Councilmember seats, unless either is elected (at which point a special election will be held).

Kaplan (At-large) is running for County Supervisor, and has been endorsed by 5 of the 7 other Councilmembers
Thao (D4) is running for Mayor and has been endorsed by 3 of the 7 other Councilmembers
Reid (D7) is running for Mayor and has been endorsed as "#2 choice" by 2 of the 7 other Councilmembers
Taylor (D6) is running for Mayor and had not received any endorsements from any of the other 7 Councilmembers until Oct 26, when Reid and Taylor announced each other as their #2 choice.
Want to read more? Neat! We don't know who made this Oakland politics cliffnotes, and can't speak to the accuracy of their notes, but this might be a good reference to dive deeper into the horrible interconnected web of #oaktmg hatefest.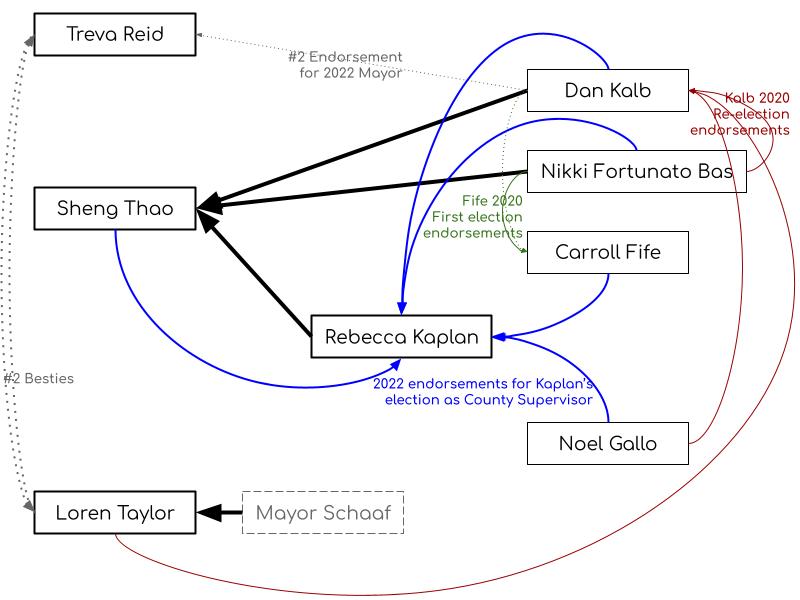 | | Treva Reid | Sheng Thao | Loren Taylor | Rebecca Kaplan (County race) |
| --- | --- | --- | --- | --- |
| Rebecca Kaplan At-large | - | 1 | - | - |
| Dan Kalb D1 | 2 | 1 | 2 | 1 |
| Nikki Fortunato Bas D2 | - | 1 | - | 1 |
| Carroll Fife D3 | - | - | - | 1 |
| Sheng Thao D4 | - | - | - | 1 |
| Noel Gallo D5 | - | - | - | 1 |
| Loren Taylor D6 | 2 | - | - | - |
| Treva Reid D7 | - | - | 2 | - |
Links to learn more
Guides we appreciate(TM)
A voter-education event on ballot measures (Zoom recording, with passcode: BFJ@0N30): https://us02web.zoom.us/rec/play/LetXQkyE2zl-pBJ0rXC1k54GfPf9SqrMG9tkNmooebspR_5HPgZQzuyx_Ti7B18x3xwcn-PXwQ4Mnm8G.e1V-r9mbp2UXTEOm?startTime=1663432806000
Oakland Rising 2022 ballot guide
Politico's California Ballot Tracker: Interest groups prepare for expensive 2022 fights